[01-04-2020] | Arduino RPM and Gear indicator

---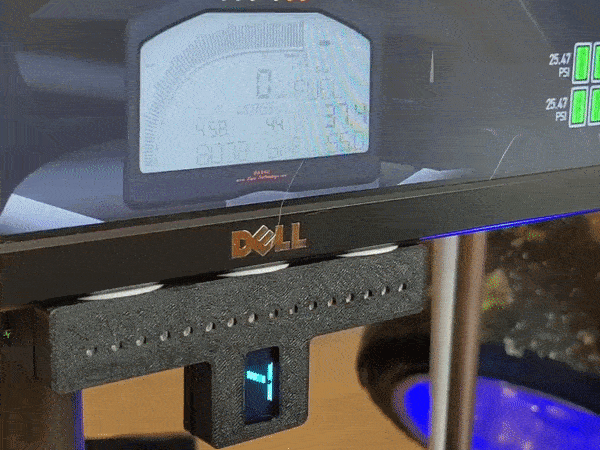 Instructions specific to Arduino Nano Every Project requires:
1x Arduino Nano Every
1x SSD1306 128x64px OLED screen
2x 8 pixel Neopixel strips
3d printed case (STL included in repository)
SimHub software
I started to get in to sim racing at the beginning of the pandemic, like everyone else who recently got into it. I had been wanting a wheel for awhile and finally pulled the trigger on it. From there everything went out of hand in usual fashion and within a month I had triple monitors, an 8020 sim rig, and a racing seat.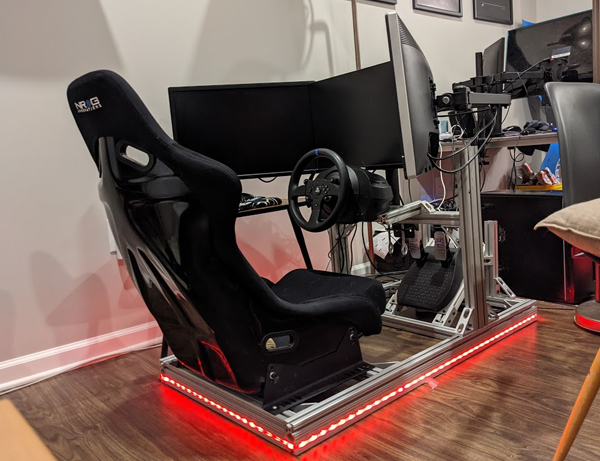 I kept thinking it would be fun to start messing with an Arduino, and that LED's were relatively simple to control. I also really like the customizable LEDs that the steering wheels on the IndyCars run, so I wanted to see if I could make it all come together in a racing sim with my own setup.

I ended up finding the incredibly powerful Simhub software. It taps into the shared RAM or UDP stream that most sims output, formats everything into a common type, then allows you to output that data to a number of different devices.

I used the Arduino capabilities mainly, but you can even use an existing analog gauge cluster from a car to output telemetry to. An example even uses an e36 cluster which I had laying around at the time. Anyway, here's the basic instructions on how to replicate what I did. The repository mentioned can be found on my Github.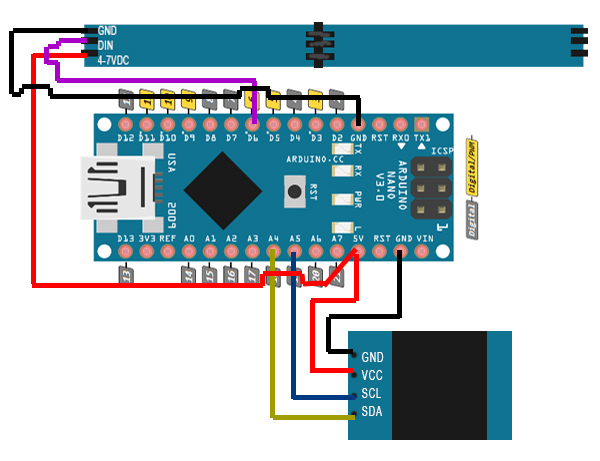 Arduino Nano Every wiring diagram
Neopixel setup
Place 2 strips together end to end
Flip over, solder all 4 pads straight across
Wire GND to Arduino GND
Wire 4-7VDC to 5v on Arduino
Wire DIN to D6 on Arduino
OLED setup - SSD1306 128x64
Desolder pins on GND, VCC, SCL, SDA if necessary
Wire GND to Arduino GND
Wire VCC to 5v on Arduino
Wire SCL to A5 on Arduino
Wire SDA to A4 on Arduino
SCL and SDA pins for Arduino Nano Every, may change per board
Everything can now be placed in the case.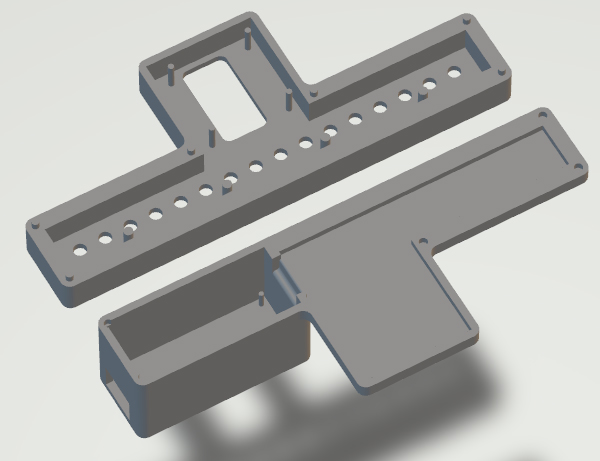 SIMHUB setup
Plug in Arduino
Open Arduino, go to My Hardware
Set WS2812B leds count to 16
Set OLED LCD enabled
Click open in Arduino IDE
As you can see, the only 2 lines in the includes that aren't commented are the LCD and LED ones
If you want to modify how the gear selection displays -

Go to SHGLCD_I2COLED.h file
setRotation value can be changed to change orientation of text
setTextSize and setFont can be changed to change the size of text

    void Init() {
        glcd1.begin(SSD1306_SWITCHCAPVCC, 0x3C);
        glcd1.clearDisplay();
        glcd1.setFont();
        glcd1.setTextSize(2);
        glcd1.setTextColor(WHITE);
        glcd1.setRotation(3);
        glcd1.setCursor(0, 0);
        glcd1.print("");
        glcd1.display();
        }
                 
Save the files necessary
Import "LED Strip.ledsprofile" in Simhub under Arduino/RGB LEDs
Modify part1.ini under SimHub\OLEDTemplate\Ingame\0_Default or overwrite with file from this repository

    [Text]
    X=37
    Y=100
    Color=1
    Text=[DataCorePlugin.GameData.NewData.Gear]
    FontSize=3
    FontType=2
    Align=3
                
Upload sketch to Arduino from the Arduino IDE
After you get it where you want, back up the files in SimHub\_Addons\Arduino\DisplayClientV2